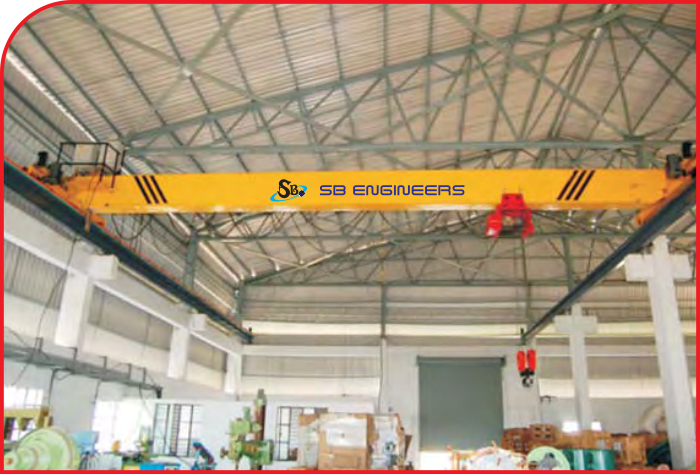 Single Girder EOT Crane
We offer our clients a wide range of compact sized Single Girder EOT Cranes used for various application purposes. Light weight, easy operations and maintenance are some of salient features of these cranes. Besides these other features of these cranes are listed below:
The material of construction conforms to IS: 2062-1992
Salient features

Optional Features
Design
'SB CRANES' are designed & manufactured accordance with IS-807, IS-3177 & IS-4137 considering factor of safety in respect to appropriate class of duty.
Duty :
SB cranes are designed for various class of duties :
Class - I : light duty cranes for maintenance, warehouse operations.
Class - II : medium duty cranes for general engineering application and machine shop.
Class - III : heavy duty cranes for heavy machine & fabrication shop, paper mills, etc.
Class - IV : extra heavy duty cranes for continuous operation in steel mills and other heavy engineering purpose.
Crane bridge :
Crane bridge girders are of plate box type / standard rolled steel joist / compound beams / castellated / lattice construction. All the main butt-weld joints of the web are strong and rigid structure thus 100% reliability of welded joints is ensured.
Motors :
The motors are used specially crane duty (S4) suitable for frequent starting, reversing & braking in accordance with IS-325. Motors are totally enclosed in dust proof & fan cooling (TEFC) construction, Sq. cage motors, insulation class F, IP54 protection, foot / flange/face mounted.
Gear Box :
The entire gear boxes are made of accurate hob cut helical / spur gears & pinions having hardness 250 to 350 BHN made from carbon alloy steel. All gears & pinions running on antifriction type ball / roller bearings in totally enclosed oil bath giving constant splash lubrication. The helical / Spur gear designed for adequate strength and optimum wear resistance for smooth operation & long life.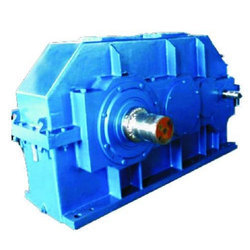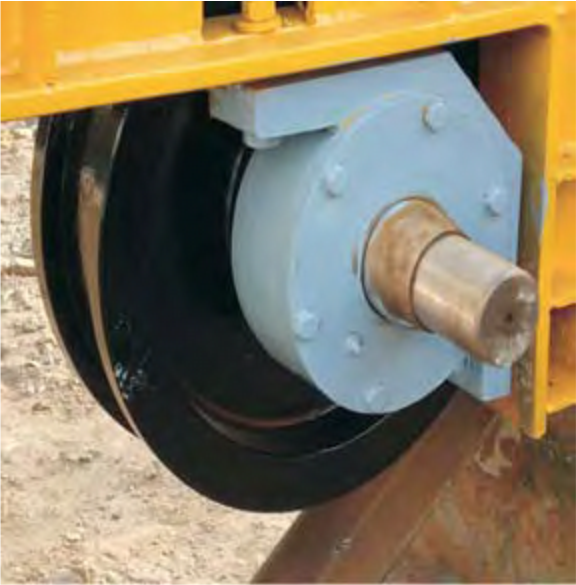 Wheel assemblies
Long travel wheels are straight treaded double flanged forged steel wheels. Wheels aresupported on antifriction ball or double row self aligned spherical roller bearings in special blocks of 'L' type design ('l' type bearings) for easy maintenance.
Limit Switch :
Safety limit switches for stoppers will be provided to prevent over traveling in all motions.
Painting :
Two coats of primer before assembly & two coats of synthetic enamel after testing.
Electrical Panel :
Modular design, ease to install and maintain, reliable operation, fuse less circuitry, ducted wiring and compact terminals. Motor overload protection to prevent overloading.
Brakes :
Electromagnetic Single-dual AC disc type/electromagnetic shoe type/ EHT brakes are provided in all motions. These brakes are "FAIL to SAFE" type means automatically release when the motor circuit is on and applied when motor circuit is off. Dc brakes are also provided on request.
Variable speed through VVF Drive
Soft starter
Slipring motors
Wireless Radio Remote control operated
Shrouded DSL system for power feeding
Flameproof cranes